Canceling an Entire Trip Booked in Concur Travel
---
Overview
This training guide explains how to cancel an Entire Trip that had been booked in Concur travel.  To learn how to add, change, or cancel items in a booked trip see the Changing a Trip Booked in Concur Travel guide.
If you must cancel a trip that was originally booked in Concur Travel or directly with CTP, you can cancel it easily for free in Concur OR by calling CTP at 877-630-1232 M-F 8:00am-5:00pm. If you booked your trip in Concur Travel, please do not cancel directly with the airline, hotel, and rental company. Concur tracks unused ticket credits. Unused tickets from flights cancelled directly with airlines do not get reported back to CTP, therefore cannot be uploaded into your Concur profile for future use. Please follow the steps below to cancel your trip in Concur or call CTP to cancel for free.
Step One:
From the Concur Home Page, under My Trips, select the trip that you wish to cancel.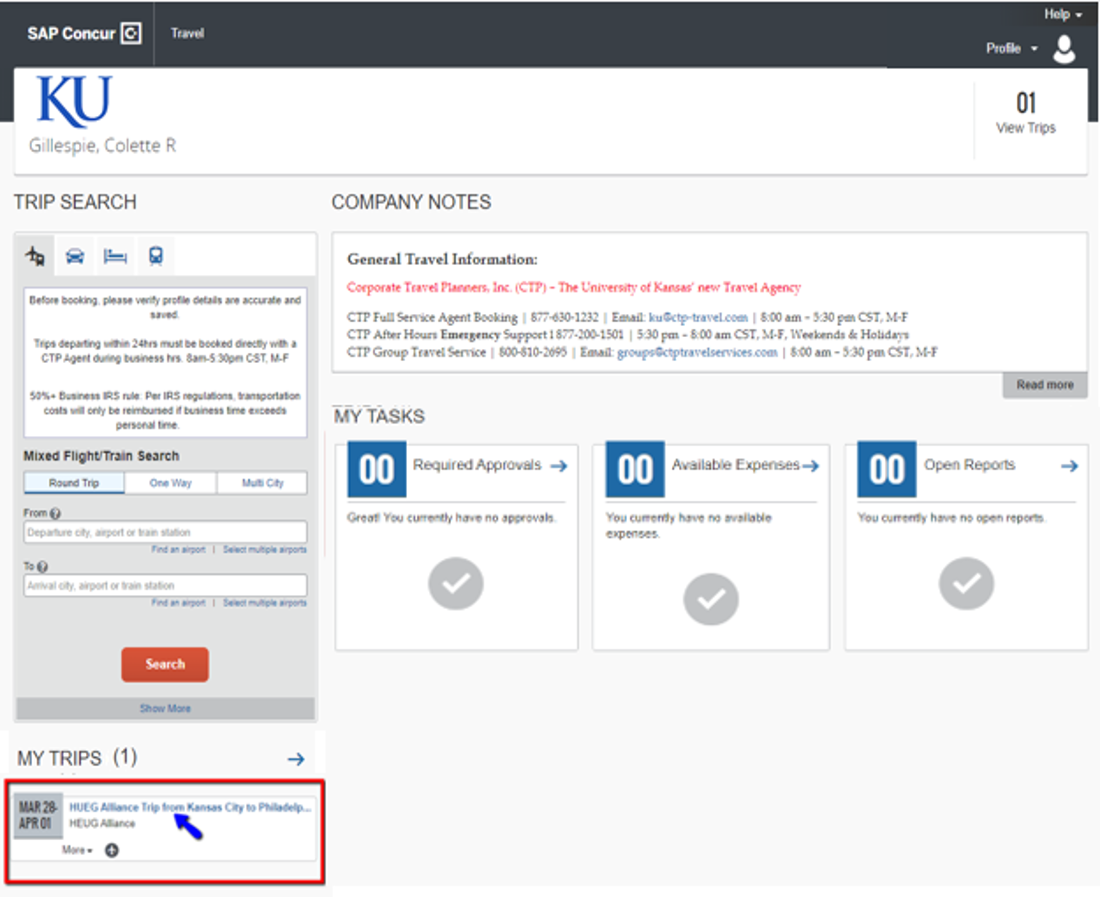 Step Two:
On the Travel Details page, select Cancel Entire Trip.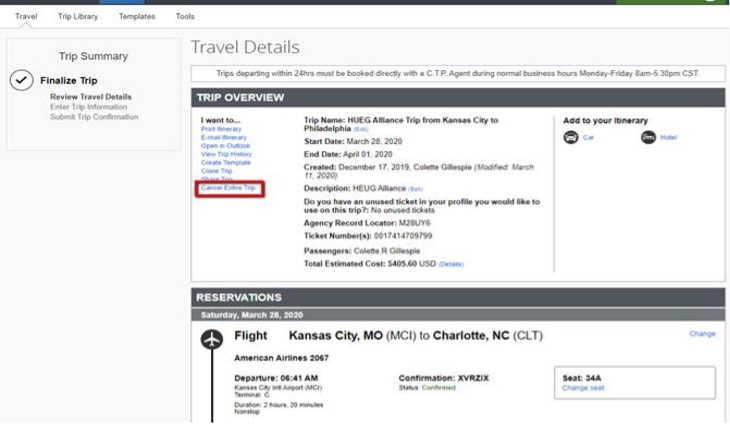 Step Three:
You will get the following warning. Please read the information, add a comment if you wish and select OK to acknowledge.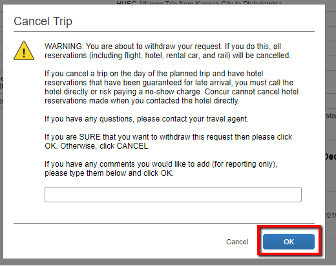 NOTE:
When you cancel a trip, if your ticket is refundable, your ticket will be voided or refunded, as applicable. If your ticket is non-refundable, and you cancel it in accordance with the airline rules, an unused ticket credit will be retained in Concur that you can apply to future trips with that airline.
If you are canceling a Southwest flight and after this screen you get an error, you will need to call CTP at 877-630-1232 between 7:30 am – 6:30 pm CT to have them cancel your flight. Southwest is a Direct Connect supplier and there may be times when Concur experiences situations when their connection with Southwest is down. Please do not cancel directly with Southwest.
Step Four:
You will get the following message, enter a brief comment about why you are canceling. This may help CTP in some cases get a refund or fee waiver. Then select Send this trip to a travel agent to cancel.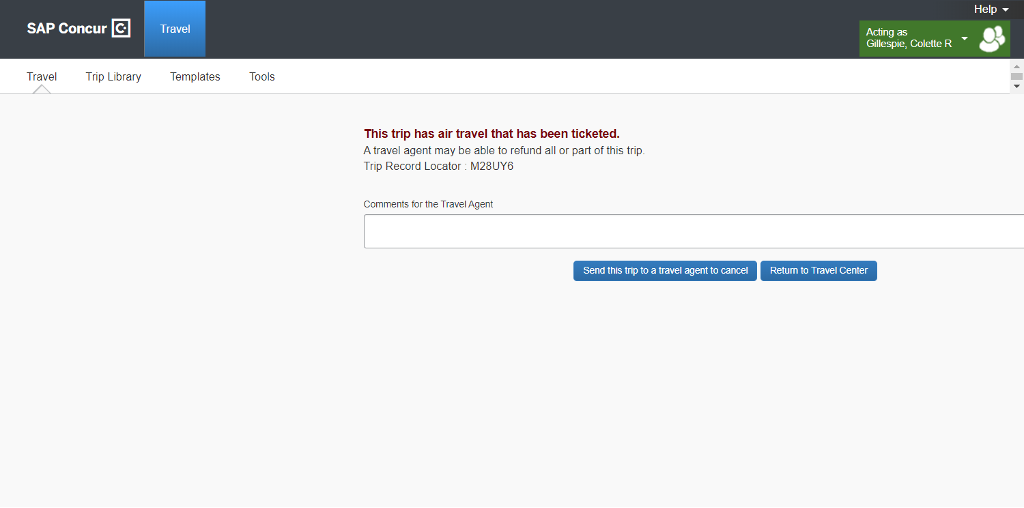 Step Five:
Your trip is cancelled in the Concur system, on this screen select Return to Travel Center.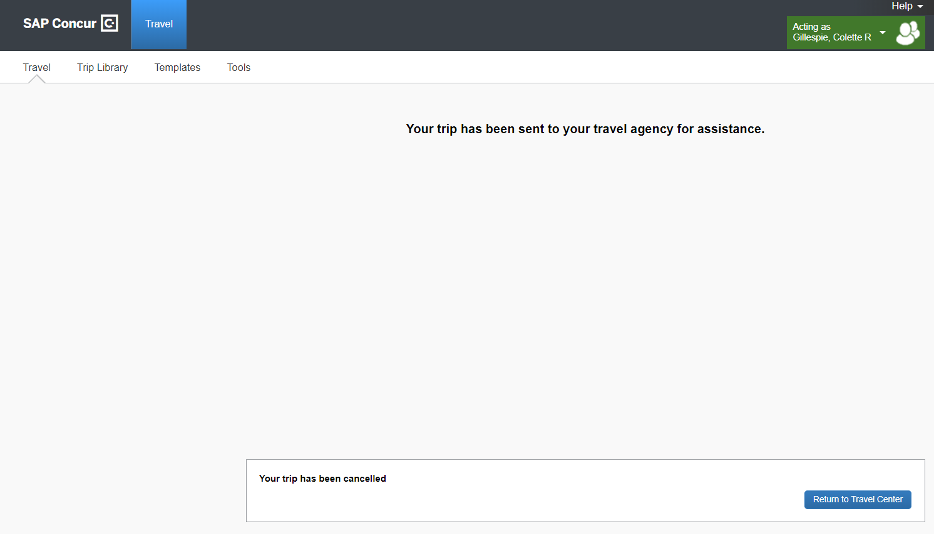 Step Six:
In addition to the method above, here are two other ways to Cancel Trip in Concur:
Select the Travel page in the upper left of the screen. Choose the Upcoming Trips tab and under the Action column select the Cancel Trip hyperlink and follow Steps Three, Four, and Five shown above.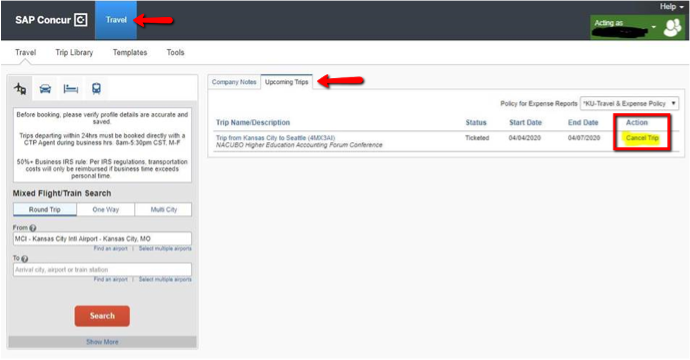 2. While in the Travel page, choose the Trip Library. Under the Action column select the Cancel Trip hyperlink and follow Step Three, Four, and Five shown above.