Overview
KU employees should use Concur Travel to purchase a flight for business travel for themselves, other employees as an Arranger, or for guest travelers. Be sure to update your Concur Profile prior to making travel arrangements the first time in Concur.  Travel arrangements can also be made directly with our travel agency, Collegiate Travel Planners (CTP) as well. For multi-segment and international trips it is recommended to booking through CTP, as an agent will be able to better ensure you are getting the best price possible and itineraries are correct for these types of trips.
This training guide will walk you through how to purchase a flight for yourself or for other employees as an Arranger.  Arrangers see the Acting on Behalf of Another User guide before proceeding for additional steps. 
A flight can be booked with a rental car, hotel or separately.  Per University policy, all employees should create a Travel Request or submit travel inform to your SSC contact or travel processor to have one created prior to making travel arrangements.  
Step One:
From the Concur Home Page, under Trip Search, use the Flight  tab to search for and book a flight by itself or with car rental and/or hotel reservations.

Select one of the following types of flight options:
Round Trip
One Way
Multi City
In the Departure City and Arrival City fields, enter the cities for your travel. When you enter a city, airport name, or airport code Concur will automatically search for a match.
It is best to search by city name so you can select "area airports" to see all airlines and flights into/out of that city.
Use the Find an airport and Select multiple airports links as needed.
In the Departure and Return fields you can:
select the appropriate dates from the calendar,
specify depart or arrive times,
select +/- search window, and 
select the down arrow to the right of the time window to see a graphical display of nonstop flights available for the routing and date you have selected. This allows you to adjust your search criteria, if necessary, to see/reserve nonstop flights.
If you need a rental car, select the Pick-up / Drop-off car at airport check box.
If you need an off-airport car or have other special requests, you can skip this step and add a car later from your itinerary.
Detailed instructions on rental car reservations are in the Reserving a Rental Car guide.
If you need a hotel, select the Find a Hotel check box. Additional fields appear.
Choose to search near an airport, near an address, near a company location, or near a reference point / zip code (a city or neighborhood).
If you are staying at more than one hotel during your trip or do not need a hotel for the entire length of your stay, you can skip this step and add a hotel later from your itinerary.
Detailed instructions on hotel reservations are in the Reserving a Hotel Room guide.
NOTE: If you need a flight, rental car, and hotel reservation, it is easiest to check these boxes and book them together in Concur.  However, for this training guide we will assume you are only purchasing a flight, in which case you would not check these boxes.
Other flight search options include, by Price or Schedule, Carrier, or Flights w/no double connections. Once you have chosen your options, select Search.

Note: If you are traveling to a location that in most cases may require more than 1 layover, you will need to uncheck the Flights w/no double connections box.  This is especially important for complex itineraries and international trips.  Otherwise you will likely restrict your search results to limited and expensive flight inventory. 
A policy reminder window will pop up.  Read and select Continue.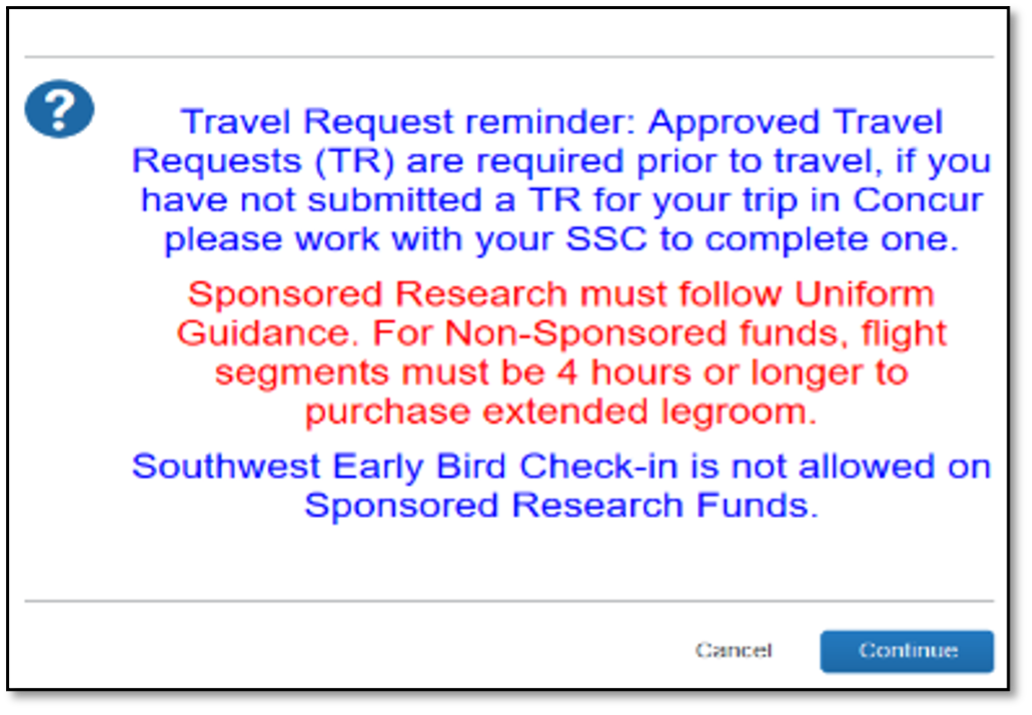 Step Two:
Breakdown of the Select Flights page: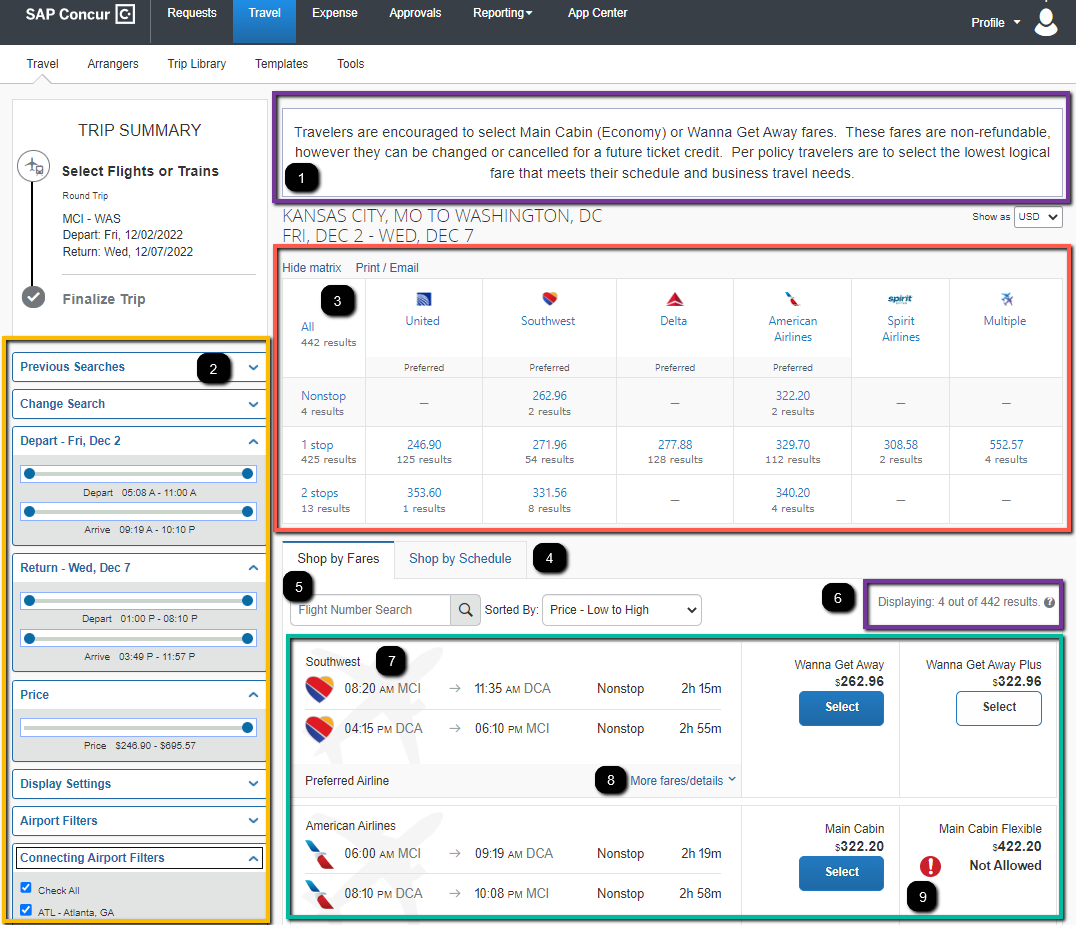 Information message - different message for air, car, and hotel.
Search parameters that you entered on the Trip Search screen, you can modify your parameters in the Change Search or adjust filters to change the displayed search results without going back to the home page.
Matrix summary of the available flights sorted by airline and number of stops. You can select any airline box or number of stops box in this section to narrow your search.
Shop by tabs. You can choose to search by Fare (Price) or by Schedule.
Search and Sort by fields. If you located the flight that you want outside of Concur, you can enter the flight number in the Flight Number Search box to easily locate it. You can also change your Sorted By setting.
Page display. This shows you how many results and pages your search parameters pulled.
Sorted available flights. This lists the available flight results with dates, times, and fares*.
Select More fares/details to see detailed flight information and fare options.
Take note that there may be either a yellow triangle warning icon or a red circle Not Allowed icon on some fare options based on KU/Research travel policies*.  Any flight with a yellow triangle warning icon can be selected but you have to indicate a reason for the selection.
*NOTE: The system will sort by the lowest cost airfare in the search results. Any domestic flights with a price $200 greater than the lowest cost airfare within your search criteria or international flights $400+ greater will be displayed in the system with a yellow triangle warning icon next to the fare button. You can still select a flight with this warning icon, however the system will log your selection and will require via a dropdown menu additional explanation regarding why the selection was necessary.  Flights within policy will be notated with a green circle with a checkmark icon.  Additionally, all Basic Economy fare options are displayed with the yellow triangle warning icon due to their highly restrictive nature.  Travelers can choose to purchase this fare option, but must indicate they acknowledge their restrictive nature.
Step Three:
Once you have reviewed available flight option choose your flight.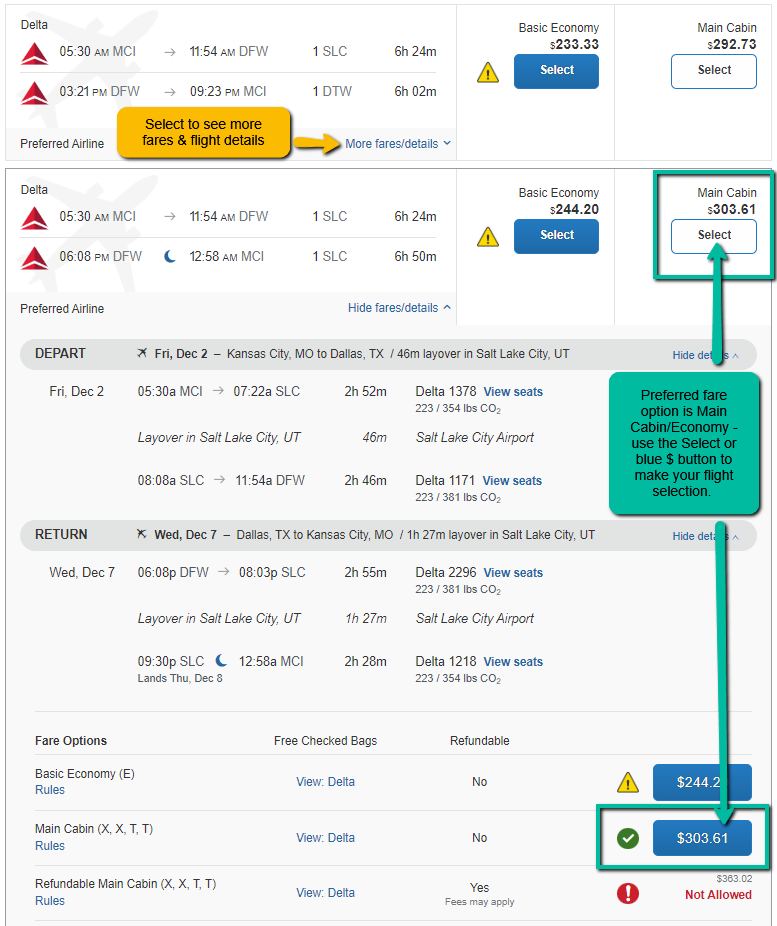 Select the More fares/details link to see flight details and the various fare options, noting the policy compliant or warning icons.
Select either the Select or $Price button to reserve flight.
NOTE:
For Southwest, Wanna Get Away is the preferred fare option.  You may select a Wanna Get Away Plus or Anytime fare option if Wanna Get Away is sold out.
Southwest is a Direct Connect "instant purchase" supplier. If you select the $Price button, you are purchasing this ticket at this point in the booking process. If you did not wish to book this flight you will need to contact Southwest directly to seek reimbursement. Other airline carriers do not ticket/purchase until the booking is finalized.
Southwest Early Bird Check-In is an ancillary service, which can be added to your SW flight after you have finalized the booking process as instructed below in Step Nine.
Step Four:
On the Review and Reserve Flight page, review and select appropriate options.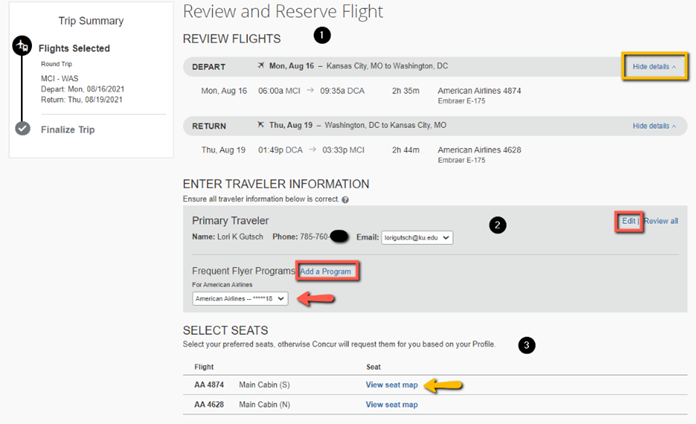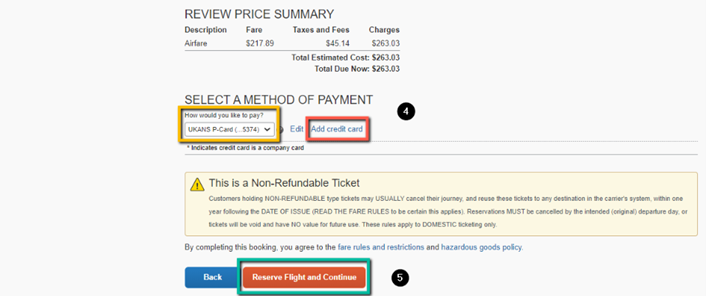 To navigate through the page:
Review flight details, select the Back button if you need to revise.
Ensure traveler information is correct, edit or Add Frequent Traveler Program as needed.
Select or view seat. 
Ensure payment information is accurate.

A different saved card can be selected from the dropdown or a new credit card can be added if needed.  Any credit card added will be automatically saved to your profile.

Then select Reserve Flight and Continue.
NOTE:
If you checked the Pick-up/Drop-off car at airport box, the rental car search results will appear at this point. See the Reserving a Rental Car guide for detailed instructions.
If you checked the Find a Hotel box, the hotel search results appear after you have chosen a rental car. See the Reserving a Hotel guide for detailed instructions.
This guide assumes you are only purchasing a flight and are now ready to complete/finalize your purchase.
Step Five:
On the Travel Details page, review and change your itinerary as necessary.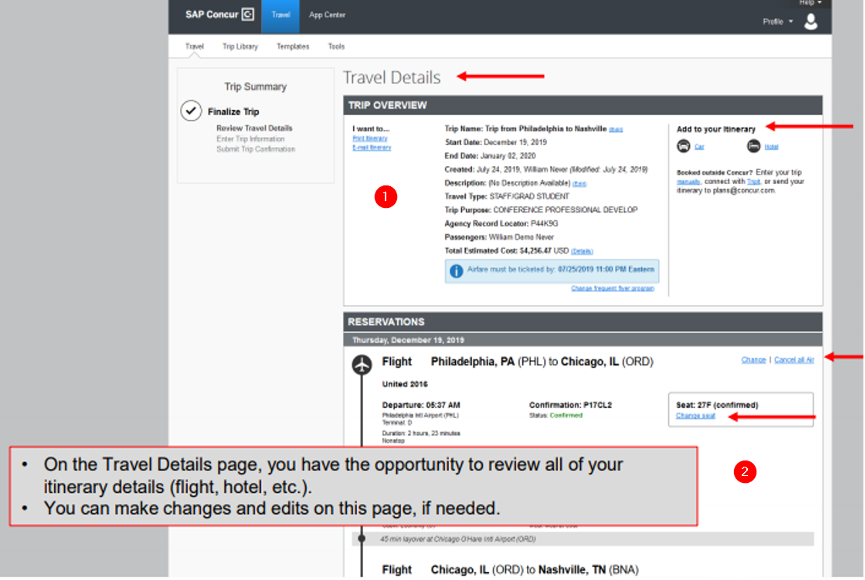 In the Trip Overview section:

Review the information for accuracy.
In the I want to section you can print or email as needed.
In the Add to your Itinerary section add a car, hotel, etc., as necessary.

In the Flight section:

Verify the information for accuracy.
Select Change Seat to select a different seat (depending on the airline).
To change your flight, select Change and then follow the prompts to change your outbound or return flight.
Select Cancel all Air, if necessary.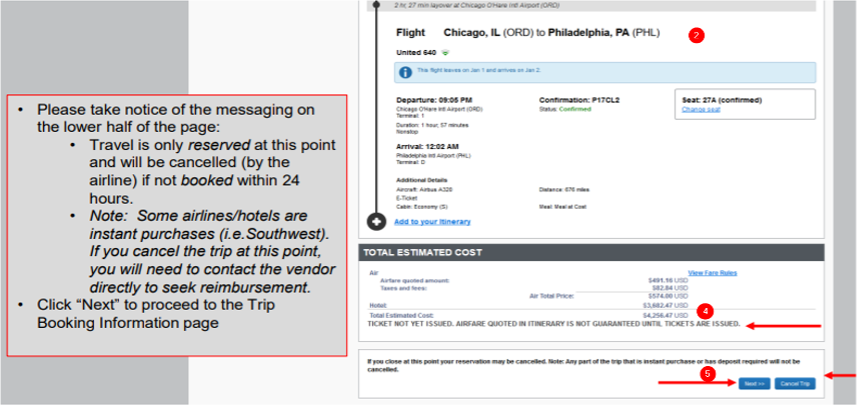 3. Review the Total Estimated Cost section.
4. Select Next. The Trip Booking Information page will appear.
Step Six:
Use the Trip Booking Information page to enter additional information about your trip.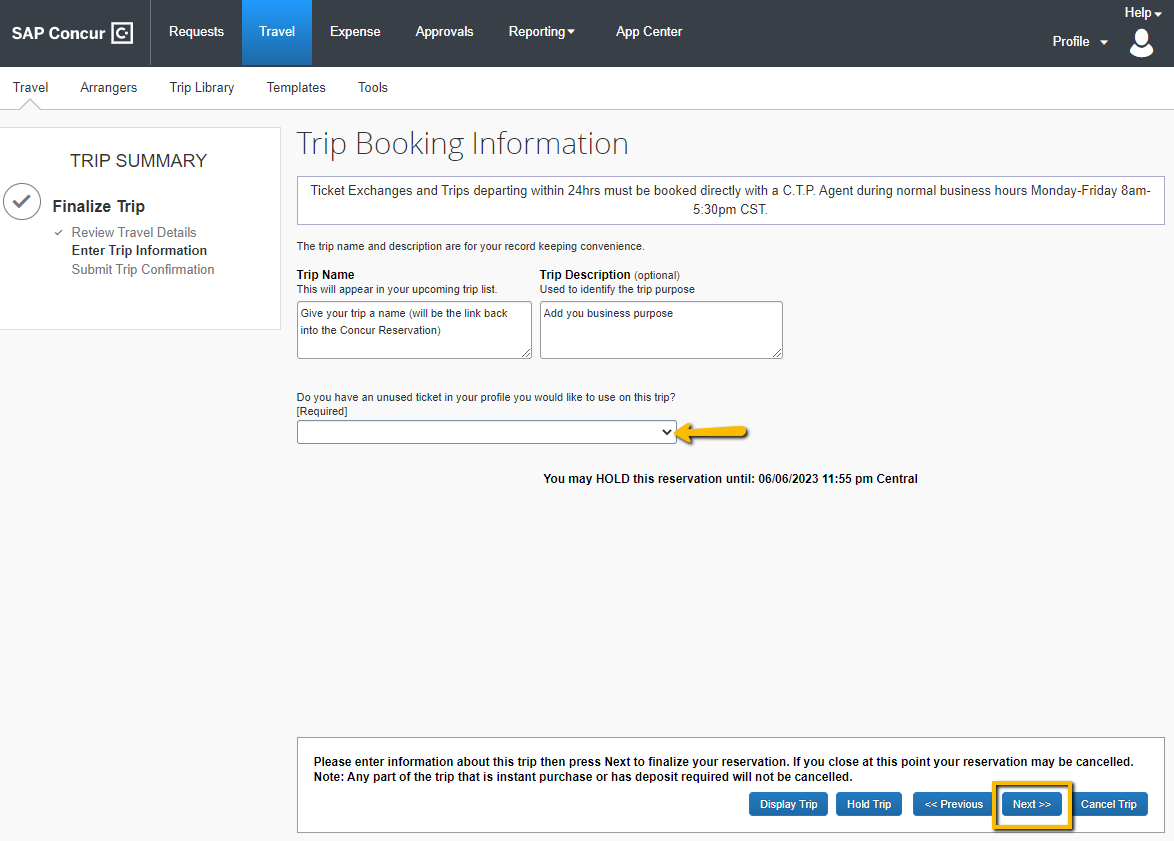 Enter or modify your Trip Name.

This is how the link to your trip will appear on your itinerary and in the automated email from SAP Concur.

Enter a Trip Description.

This is where you can give trip information to your SSC or travel processor.

Use the dropdown to indicated if you have unused ticket credits you wish to use.
Select Next to proceed with finalizing your booking on the Trip Confirmation page.

If you choose to Hold Trip, your itinerary selections will be held for until the day/time noted in Concur. It does NOT guarantee the flight price, only holds your selection.
Step Seven:
On the Trip Confirmation page: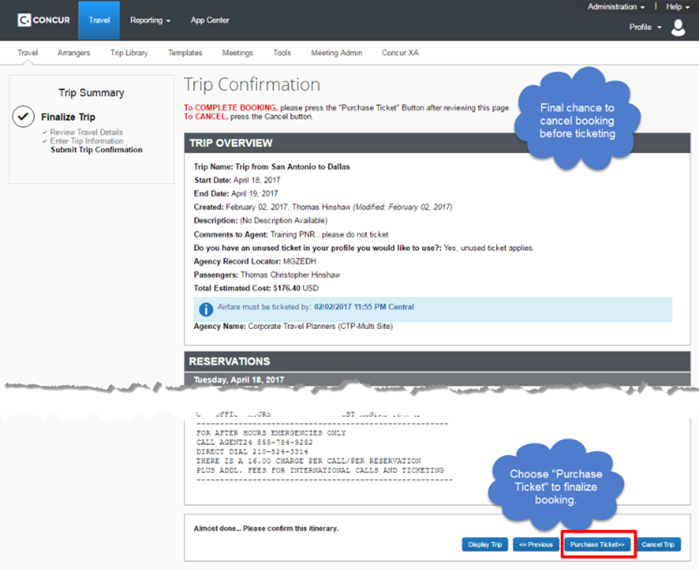 Review your Trip Overview details.
Select Purchase Ticket to finalize your flight booking and send your request to CTP to ticket your flight.  

NOTE: Your flight booking is NOT complete until the Purchase Ticket button at the bottom of the page has been selected!  If the Purchase Ticket button is not selected, Concur will send emails to let you know you need to finish the process.  After 6 hours if the Purchase Ticket button is not selected, Concur will cancel the unfinished booking and release the selections.
Step Eight:
Finished! now appears, indicating that your trip was successfully booked and showing your Record Locator/Confirmation number.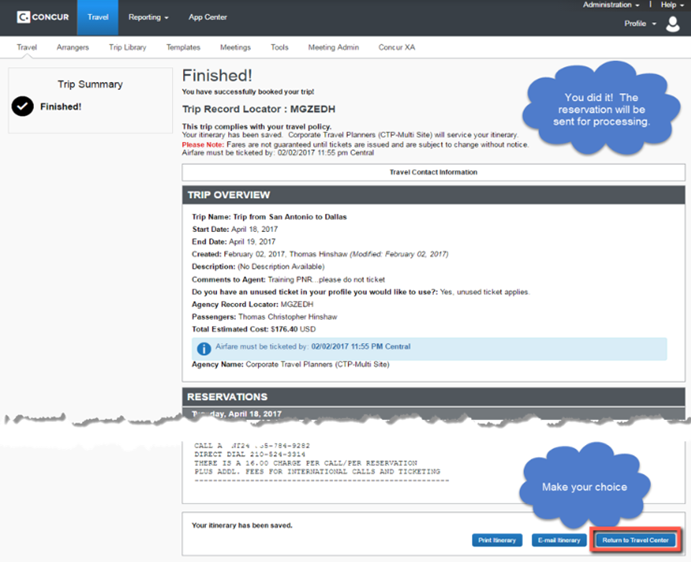 At this point your booking is complete in Concur and has been sent to CTP.  Their quality control and ticket processing should only take a matter of minutes. 
Once flights are ticketed and hotel/car is confirmed by CTP, a travel itinerary email is sent to the traveler's KU email address by CTP from Collegiate Travel Planners <na.noreply@ctptravelservices.com>.  It contains your confirmation and ticket numbers, ticket and service fee invoice/receipt information, CTP contact and general travel information.  This email indicates that your booking has completed the entire process.  If you do not get this email, please send an email to travel@ku.edu.  This CTP email is used as your airfare and service fee receipt and as trip documentation.
You have 24 hours to cancel your flight without payment, if necessary. DO NOT cancel in Concur, call CTP directly so they can void the ticket with the airlines.
Select Return to Travel Center to return to the Travel page or select SAP Concur in the upper left-hand of the screen to return to the Concur Home Page.
If you select the E-mail Itinerary button this will allow you to email the reservation itinerary wherever you wish, however this is NOT the receipt.  That is emailed to the travel's KU email address by our travel agency CTP as mentioned above.
Step Nine:
Find your Trip Itineraries to view or change, and/or Sign Out of Concur from the Home Page: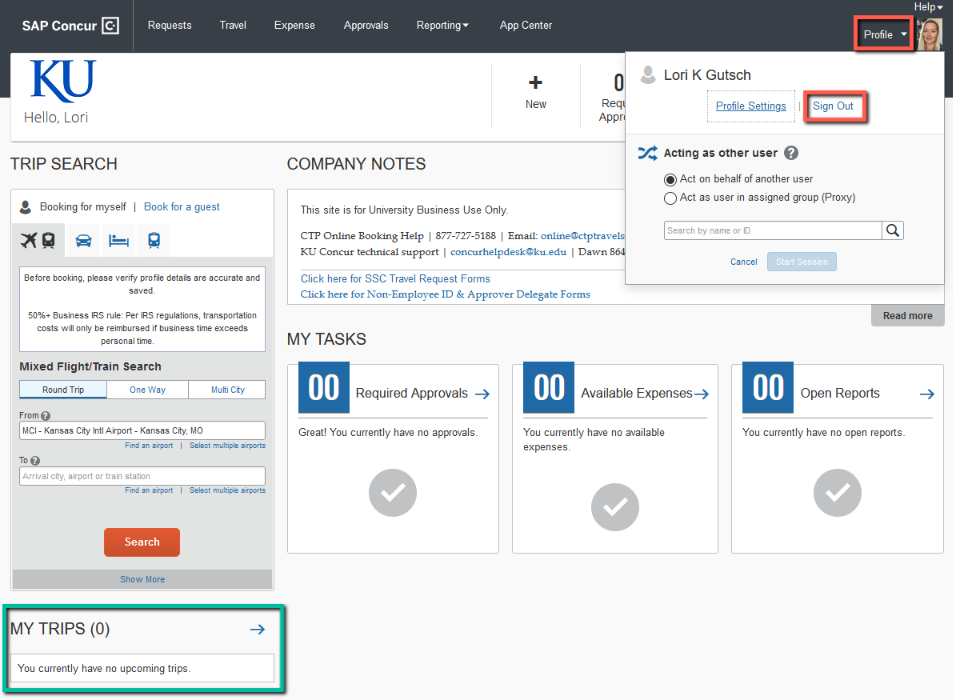 Your Trip Itineraries can be found in the My Trips section of the Home Page, or in Travel > Trip Library.

Please see the Change a Trip Booked in Concur Travel or with CTP or Canceling an Entire Trip Booked in Concur Travel or with CTP training guide pages if you need instructions on how to change or cancel a trip booked in Concur Travel or with CTP.  Or you can call CTP's Full-Service Agent desk to assist with the change or cancellation at Phone:  877-630-1232 option 1 between 7:30 am – 6:30 pm CST, M-F.
For Southwest Early Bird:
If you purchased a Southwest ticket and you wish to add Early Bird Check-In, this ancillary service must be purchased directly from Southwest on their website. Please note, like other ancillary services such as check baggage, they are NOT e-receipt eligible - you must obtain a receipt from Southwest and submit it to your SSC or travel support staff for expense documentation.  Please work with your SSC, budget manager or grant officer to determine if Early Bird fees are allowed on your funding before purchasing it.
To Sign Out of Concur:
On the Concur Home Page, select the Profile dropdown
Select Sign Out