Activating E-Receipts in Concur
---
Overview
This training guide explains how to activate e-receipts in Concur.  Once activated, e-receipt eligible purchases will appear automatically in Concur as an Available Receipt and attach themselves to the appropriate P-Card expense transaction (if applicable) for travel reimbursement or P-Card expense processing.
What is an E-Receipt? 
The term e-receipt refers to an electronic receipt sent directly to Concur.  E-receipts provide full invoice details directly from the supplier.  Concur has partnered with most airlines, as well as major hotels and car rental companies to provide e-receipt data directly into Concur, eliminating the need for scanned paper receipts for eligible purchases. Individuals are strongly encouraged to enable e-receipts in their Concur profile before booking travel. Follow the steps below to activate e-receipts.
Step One:
From the Concur Home Page:
Under Alerts, locate the e-receipt alert, select Sign up here.

Then from the E-Receipt Activation page, select where it says, click here.

--OR--
If you do not have any Alert notifications on your Home Page, go to your Profile > Profile Settings:
Under Profile Options
Select E-Receipt Activation to get to the E-Receipt Activation page.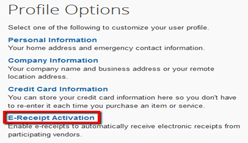 Step Two:
The E-Receipt Activation and Use Agreement window appears.
Read and select I Accept
A Confirmation
message appears
NOTE: Since you must accept the terms, this action cannot be performed by an Arranger/Assistant/Proxy. The user must do this themselves.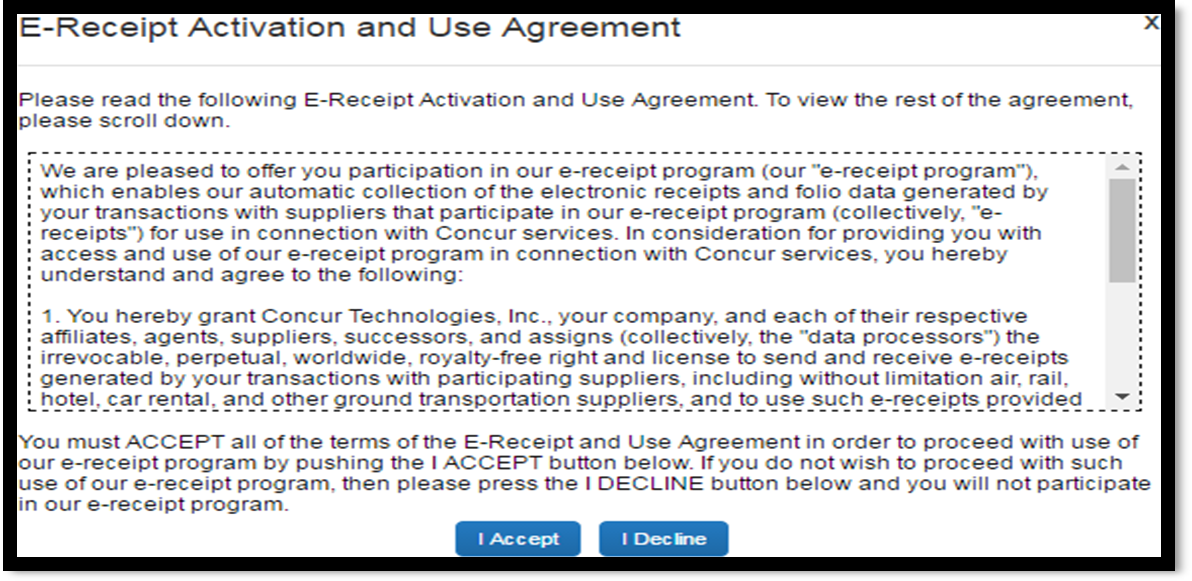 After enabling e-receipts, in your Available Expenses you will see the e-receipt icon next to e-receipt eligible expenses. Select or hover over the icon to view the e-receipt. Your SSC will use this receipt as documentation while reconciling the expense. Even when utilizing e-receipts, it is best practice to keep copies of your receipt as backup.
E-Receipts for Concur Travel arrangements will be sent to Concur for the following:
All airline ticket purchases.

Agent fee and ancillary fees such as SW Early Bird & Baggage Fees are NOT e-receipt eligible, receipts for those fees need to be submitted to the SSC via email or other established methods.

Most major hotels. Concur will note E-Receipt Enabled hotels in the Hotel Search.

Most major rental cars. Concur will note E-Receipt Enabled rental cars in the Car Search.