Overview
KU employees can use Concur Travel to reserve a hotel room for business travel for themselves, other employees as an Arranger, or for guest travelers. This training guide walks you through how to reserve a hotel room for yourself or for other employees as an Arranger.  Arrangers see the Acting on Behalf of Another User guide before proceeding for additional steps.  A hotel room can be reserved with a flight, rental car or separately.   Per University policy, all employees should submit a Travel Request to your SSC contact or travel processor prior to making travel arrangements. 
Step One:
From the Concur Home Page, if you checked the Find a Hotel box under the Air/Rail tab, skip to Step Two for hotel selection instructions.
If you require a hotel but not airfare, use the Hotel tab.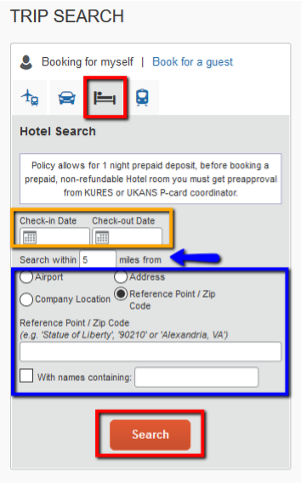 To search for hotel options:
Enter the check-in and check-out dates

select each field and use the calendar
Enter the search radius
Choose to search near an Airport, Address, Company Location, or Reference Point / Zip Code

key city, neighborhood, landmark in box
use name containing box if applicable
Select Search. The hotel search results appear.
Step Two:
Sort and review hotel results as needed.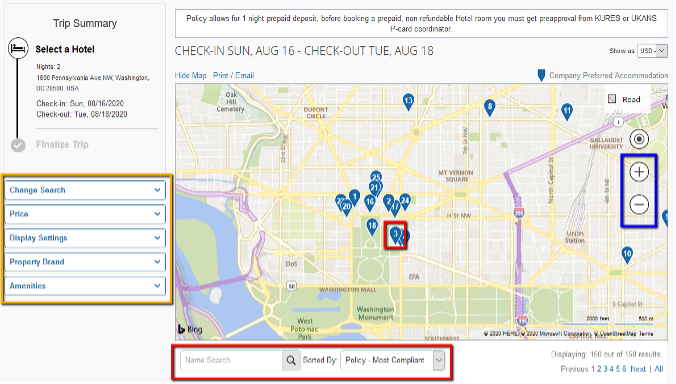 There are filters on the left side of the Select a Hotel page. Use show and hide dropdown arrows as needed to change or customize your search.
With these filters you can:

Change Search dates and location
Specify Price range, Display Settings, Property Brand, and Amenities
You can use the hotel map to narrow your search as well.
select any blue "balloon" to see specific hotel information below the map,
use the + or – sign to enlarge or shrink the map
use the Name Search or Sorted By dropdown to sort the results
Step Three:
On the Select a Hotel page, review and select a room.
Based on your search criteria, a list of hotel options will be listed below the map. Each hotel will have a picture, address, rating stars, E-Receipt Enabled notation if applicable, and price.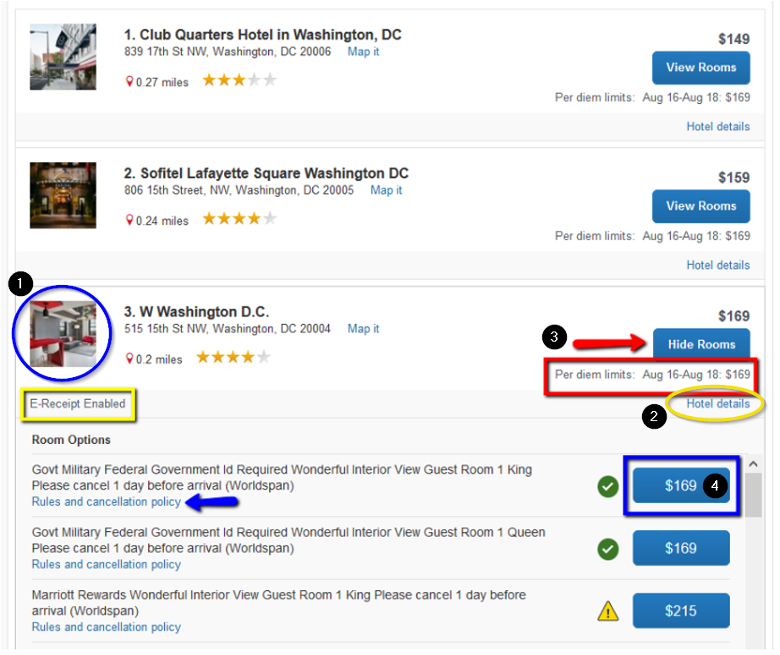 Select the hotel picture to see more hotel images.
Select Hotel details to see contact information, street address, hotel policies, and information about the facility.
Select View Rooms to see:
The available room options and rates

note Per diem limits and compliance or warning icons

Other amenities per room/rate
Rules and cancellation policy
Select the $Price button of the room you wish to select.
Step Four:
On the Review and Reserve Hotel page, review hotel room and select the appropriate options.
After verifying the Review Hotel Room information:
Review or Provide Hotel Room Preferences as needed.
Verify or Enter Hotel Guest Information, including Hotel Program information.
Review the Price Summary.
Select or Add credit card as a Method of Payment.

This is to hold the reservation; traveler is required to provide a form of payment upon arrival. 
Concur cannot send our KS Tax Exemption Certificate to Kansas hotels.  For KS Hotel stays, travelers must either take and provide it to hotel at check-in, -or- point out the KS Tax Exempt # on their KU/KUCR P-card and the Tax Exemption information on the P-card sleeve so KS Sales Tax is not charged. 

Review and Accept the Rate Details and Cancellation Policy.

Select the "I agree to the hotel's rate rules, restrictions, and cancellation policy"check box.

Select Reserve Hotel and Continue or select Back if you need to edit your dates or hotel selection.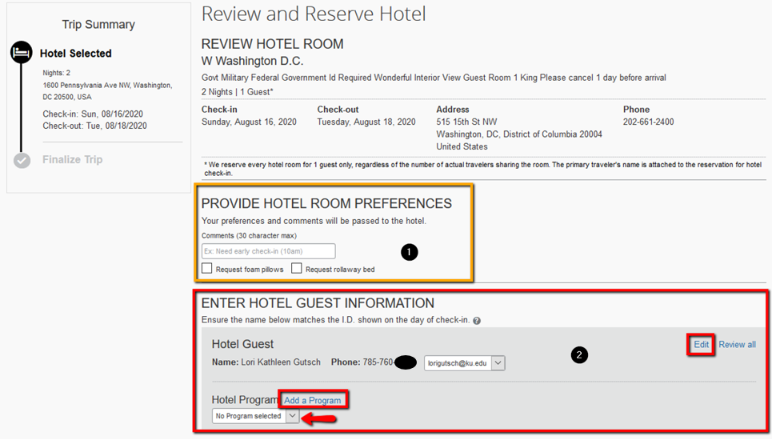 Step Five:
On the Travel Details page:
Review Trip Overview section
Add a Car or additional Hotel to your itinerary, if needed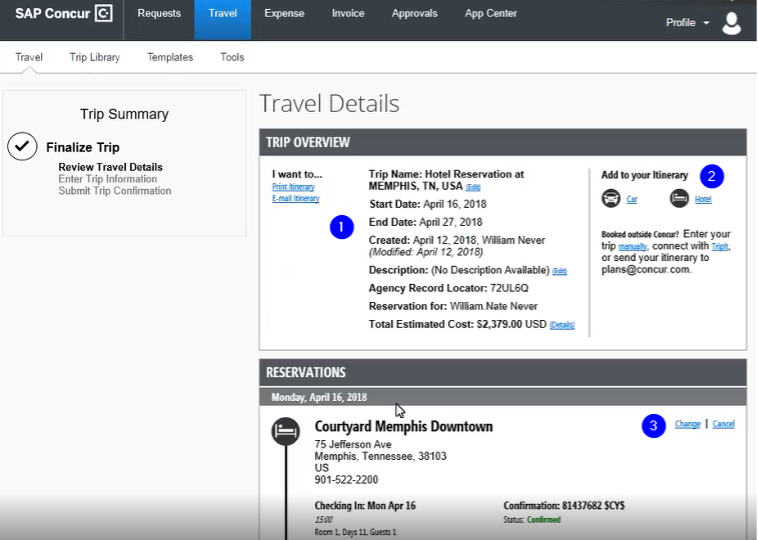 3.  Review Reservations section, Change if needed
4.  Select Next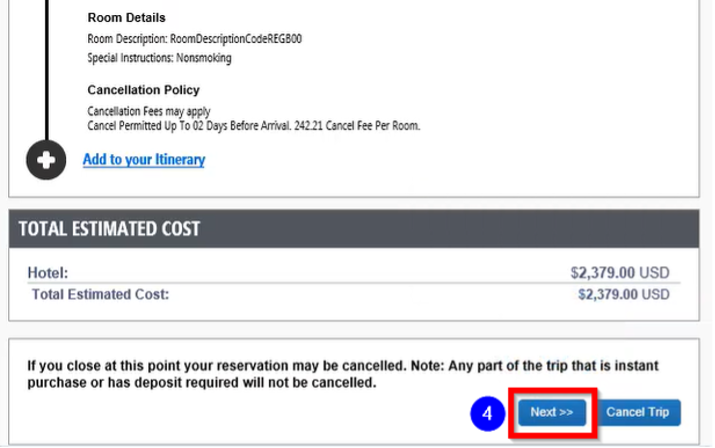 Step Six:
On the Trip Booking Information page:
Enter or modify your Trip Name.

This is how the trip will appear on your itinerary and in the automated email from SAP Concur.

Enter a Trip Description.

This is where you can give trip information to your SSC or travel reconciler.

Indicate if there is anyone else who should receive the initial confirmation email.

Enter as many recipients as needed, separated by commas.

Select Next to proceed with finalizing your booking on the Trip Confirmation page.

Step Seven:
On the Trip Confirmation page: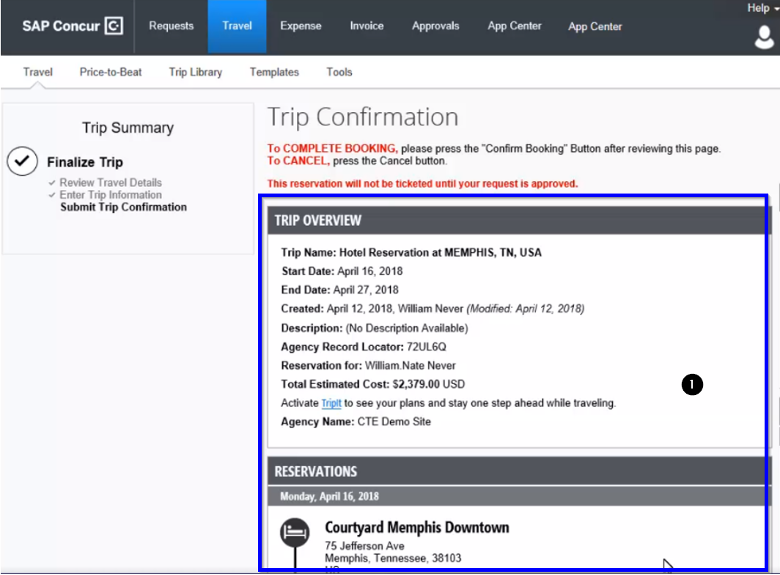 Review your Trip Overview details.
Select Confirm Booking to finalize your hotel reservation. NOTE: Your hotel reservation is NOT complete until the Confirm Booking button at the bottom of the page has been selected!
Step Eight:

Finished! now appears, indicating that your hotel reservation was successfully booked and showing your Record Locator/Confirmation number.
At this point your booking is complete in Concur and has been sent to CTP.  Their quality control and confirmation processing should only take a matter of minutes. 
Immediately after booking finalization in Concur, you should receive an email from Concur Travel<TravelWizard@concursolutions.com> with your trip estimates. 
Once CTP has confirmed the hotel reservation, a second "travel itinerary" email is sent by CTP from Concur Online<donotreply@agency-technology.com> with your hotel information, confirmation number, invoice number, and general travel information.  This email indicates that your booking has completed the entire process.  If you do not get this email, please send an email to travel@ku.edu.
Select Return to Travel Center to return to the Travel page or select SAP Concur in the upper left-hand of the screen to return to the Concur Home Page.
Step Nine:
Find your Trip Itineraries and/or Sign Out of Concur from the Home Page.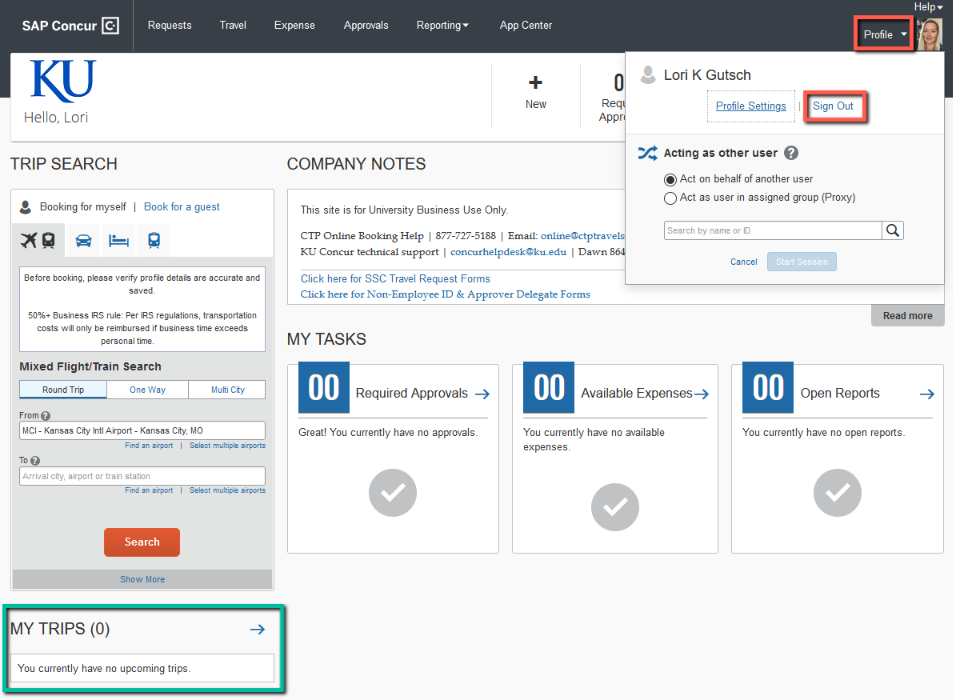 Your Trip Itineraries can be found in the My Trips section of the Home Page, or in Travel > Trip Library.
To Sign Out of Concur:
Select the Profile dropdown
Select Sign Out