Overview
KU employees can use Concur Travel to reserve a rental car for business travel for themselves, as an Arranger on behalf of other employees, or for guest travel.  This training guide walks you through how to reserve a rental car for yourself or for other employees as an Arranger.  Arrangers, before proceeding see the Acting on Behalf of Another User guide for additional steps.  A rental car can be reserved with a flight, hotel or separately.  If you department requires pre-approval for rental cars be sure to obtain it prior to making a rental car reservation in Concur.  
NOTE: The University has a mandatory contract requiring the use of ENTERPRISE or NATIONAL when available.
Step One:
From the Concur Home Page, if you checked the Pick-up/Drop-off car at airport box under the Air/Rail tab, skip to Step Two for car selection instructions.
If you require a car but not airfare, reserve the car using the Car tab.
To search for car options:
Enter your pick-up and drop-off dates, times, and location.

In the Pick-up car at section, select either:
Airport Terminal and then type the city or the Airport code
Off-Airport and then enter (or search for) the location

Select Return car to another location, if desired.

OPTIONAL: To see additional search preferences, select More Search Options.
HINT: Hold the Ctrl key to select more than one type.
OPTIONAL: Select smoking or non-smoking.
OPTIONAL: Select the preferred vendors.

Select Search. The rental car search results appear.
Step Two:
Sort the rental car results if needed and make a car selection.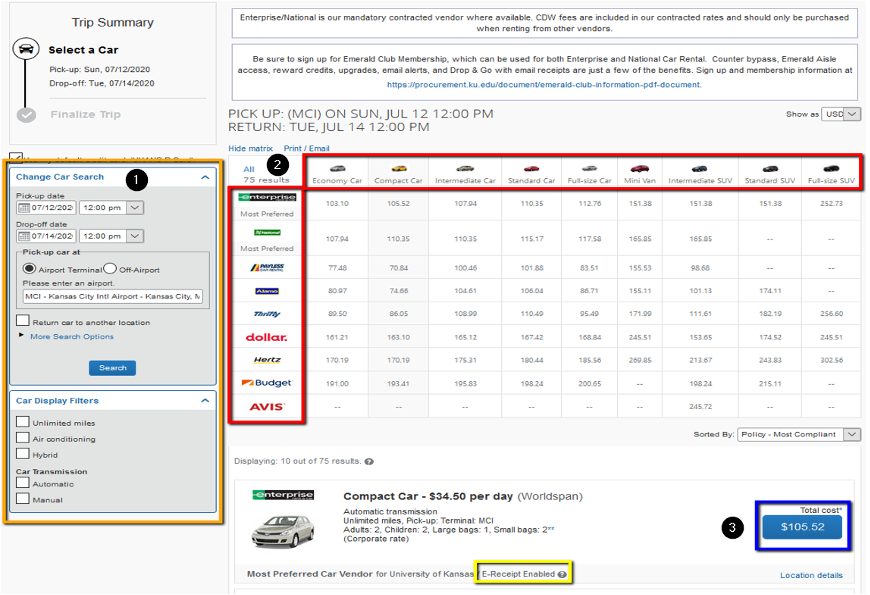 There are two sets of filters: on the left side of the page, and a matrix at the top of the page that you can show or hide.
Left side of the page: Use the show and hide arrows as needed to open filters.
In the Change Car Search area:

Change your pick-up and drop-off dates and times; change your pick-up location; change your drop-off location.
Expand More Search Options to select car type, vendors, etc.
Select Search. Travel displays the new results.

In the Car Display Filters area, select the desired options.
Matrix - Top right side of the page: Use the grid to filter the results and select car type.
To see a specific car size, select the cell along the top of the matrix with the car size. The search results below will reflect that choice.
To see cars for a specific vendor, select the cell for that vendor along the left of the matrix. The search results below will reflect that choice.
To see cars of a specific size and a specific vendor, select the appropriate cell. The search results below will reflect that choice.
Select the blue $Price button to make your selection.
NOTE:
Enterprise/National is an E-Receipt Enabled vendor.
The University has a mandatory contract with ENTERPRISE and NATIONAL. You are required to use Enterprise or National for rental cars unless they do not have a vehicle available that meets your needs. Car rentals with other companies require an exception reason and will be reported.
Step Three:
On the Review and Reserve Car page, review and select the appropriate options.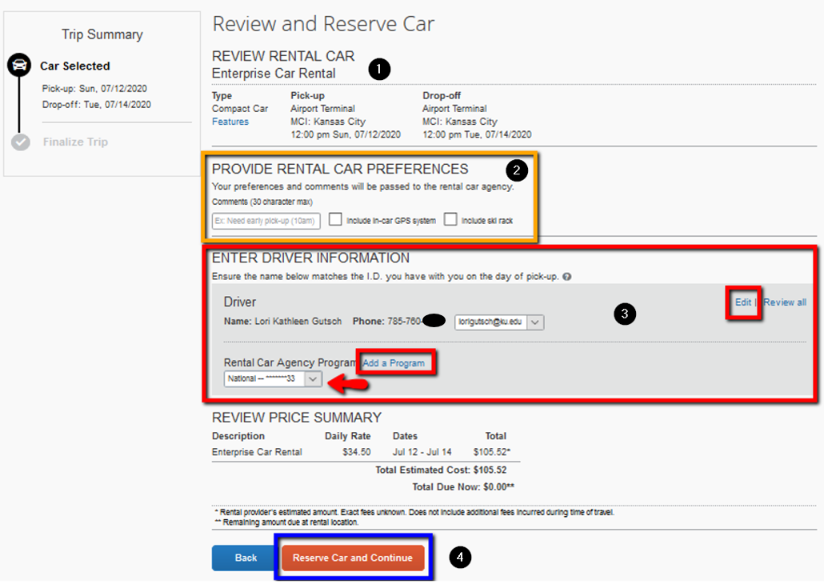 To navigate through the page:
Review Rental Car Pick-up and Drop-off info, select the Back button if you need to revise.
Provide Rental Car Preferences: If needed enter any necessary information in the Comments field and select any additional preferences that you want.
Enter Driver Information: Verify or edit Driver info as needed and choose a Rental car Agency Program from dropdown or add by selecting the Add a Program link.

Note: National Emerald Club accounts can be used for Enterprise rentals, but it will not default. You have to select it from the dropdown.

Select Reserve Car and Continue.
Important Rental Car Information:
Rentals up to an intermediate size vehicle is allowable under the KU travel procedures. Larger vehicles may be allowable if there is a no-cost upgrade provided or if the recommended sizes are not adequate to meet the business purpose of the trip. If renting larger than intermediate car classes, the system will display a warning icon next to the blue $Price reserve button. The system will log your selection and will require additional explanation regarding why the selection was necessary.
The rental car arrangements made in Concur sends the reservation information to the rental car company.  No payment information is passed to them; therefore, travelers will need to present their P-Card or other form of payment upon pick-up.  Travelers may save their payment method in their Emerald Club account profile for payment of rental cars through Concur when their Emerald Club account number is applied during booking.
NOTE:
If you check the Pick-up/Drop-off car at airport and Find a Hotel box on the Air/Rail tab, Concur Travel will now display the hotel search result pages.  See the Reserving a Hotel Room guide for detailed instruction.
If you reserved a car separately using the Car tab, the Travel Details page (itinerary) now appears.
This guide assumes you are only reserving a rental car and you are now ready to complete your reservation.
Step Four:
On the Travel Details page, review and change your reservation itinerary as necessary.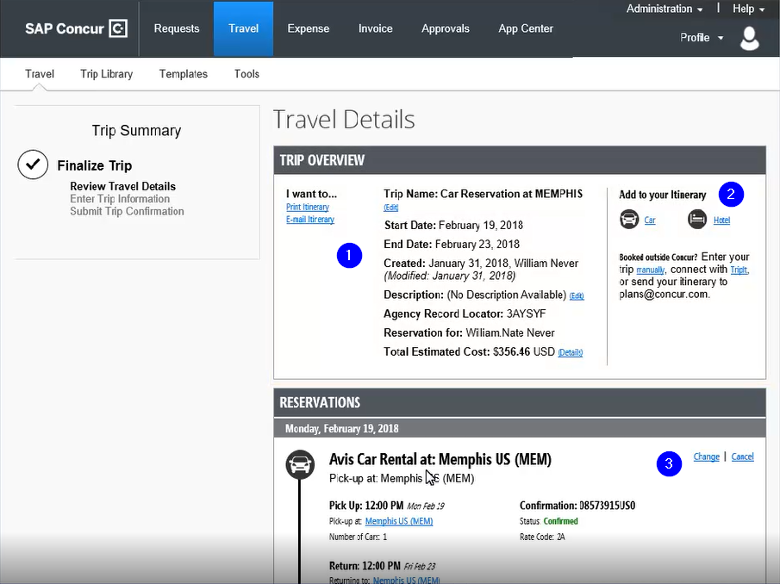 To navigate the page:
In the Trip Overview section: Review trip details for accuracy -and-
Add a Hotel or additional Car to your itinerary, if needed.
In the Reservations section: Review the Car Rental details and Change if needed.
Select Next at the bottom of the page.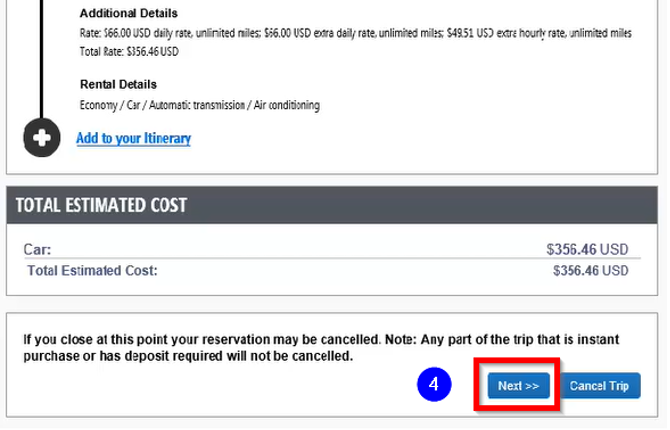 Step Five:
On the Trip Booking Information page: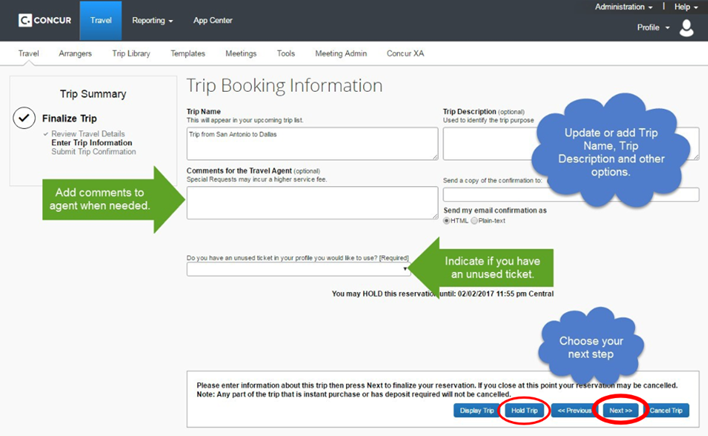 Enter or modify your Trip Name.

This is how the trip will appear on your itinerary and in the automated email from SAP Concur.

Enter a Trip Description.

This is where you can give trip information to your SSC or travel processor.

Indicate if there is anyone else who should receive the initial confirmation email.

Enter as many recipients as needed, separated by commas.

If you book the trip, you will automatically receive the email.
If you book as an arranger, you and the traveler will receive the email.

Select Next to proceed with finalizing your booking on the Trip Confirmation page.
Step Six:
On the Trip Confirmation page: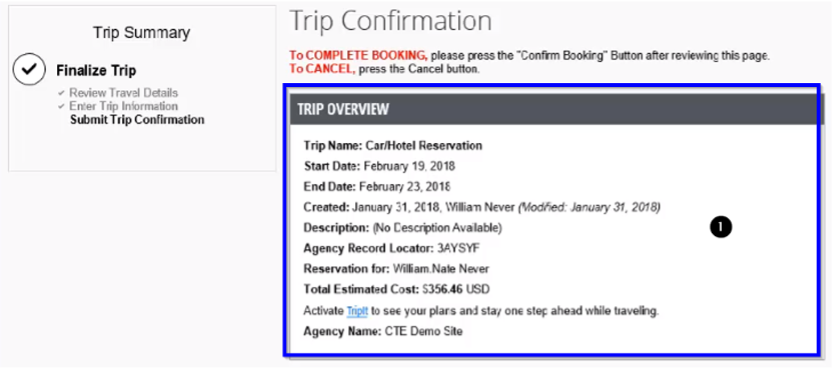 Review your Trip Overview details.
Select Confirm Booking to finalize rental car reservation. NOTE: Your car rental reservation is NOT complete until the Confirm Booking button at the bottom of the page has been selected!
Step Seven:

Finished! now appears, indicating that your car rental was successfully booked and showing your Record Locator/Confirmation number.
At this point your booking is complete in Concur and has been sent to CTP.  Their quality control and confirmation processing should only take a matter of minutes. 
Immediately after booking finalization in Concur, you should receive an email from Concur Travel<TravelWizard@concursolutions.com> with your trip estimates. 
Once CTP has confirmed the car rental reservation, a second "travel itinerary" email is sent by CTP from Concur Online<donotreply@agency-technology.com> with your rental information, confirmation number, invoice number, and general travel information.  This email indicates that your booking has completed the entire process.  If you do not get this email, please send an email to travel@ku.edu.
Select Return to Travel Center to return to the Travel page or select SAP Concur in the upper left-hand of the screen to return to the Concur Home Page.
Step Eight:
Find your Trip Itineraries and/or Sign Out of Concur from the Home Page.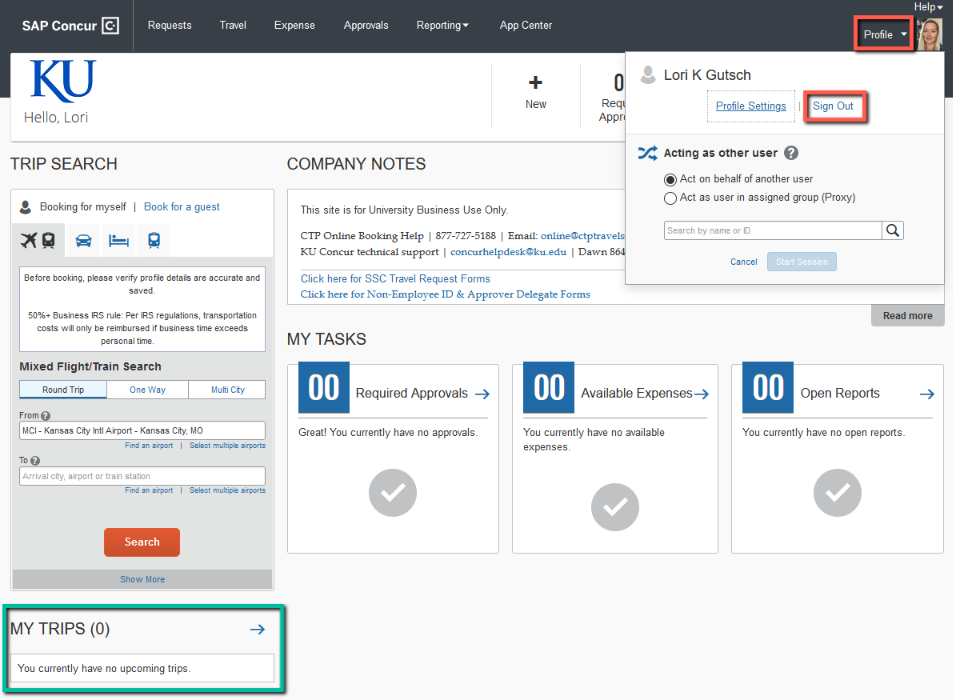 Your Trip Itineraries can be found in the My Trips section of the Home Page, or in Travel > Trip Library.
To Sign Out of Concur:
Select the Profile dropdown
Select Sign Out