Acting on Behalf of Another User as a Travel Arranger
---
Overview
This training guide explains how Travel Arranger/Assistant use the Act on behalf of another user functionality.  It allows you access to another user's profile to perform actions on behalf of that person such as make necessary additions or edits to their profile, book and edit their travel, or book group travel.  You can only utilize this functionality if an employee has updated their profile and listed you as an Arranger/Assistant on their profile. All KU Employees are considered Concur users and have travel profiles.  Non-employees are guests in Concur and do not have travel profiles.
Step One:
From the Concur Home Page, select the Profile drop-down tool in the top-right corner of the page and select Act on behalf of another user.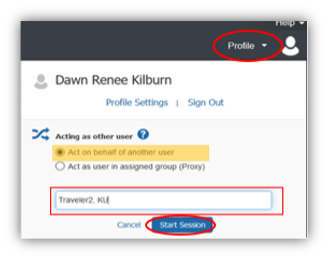 In the Search box, start typing the name of user you wish to Act on behalf of. You must be a Travel Arranger or Assistant on that person's Profile to use this functionality.
Select their name when it becomes visible.
Select Start Session. You will be returned to the Home Page, showing that you are now 'Acting as' another user.

Step Two:
When Acting as another user you are making changes or travel arrangements on that KU employee's behalf using their Concur Profile information. Before you make travel arrangements, please note:
Travelers must have their Profile updated and a P-Card issued in their names or their personal card saved in their Profile.
Arranger's P-Cards or Department P-Cards are not to be used to book other KU employee's travel unless booking for a group.
From this point, booking travel on behalf of another user is the same as booking for yourself. The only exception is that you are working through their Concur Profile so the system will use the information saved in that employee's profile to make the arrangements.
Step Three:
When done acting on behalf of another user, select the Acting as drop-down and select Done acting for others.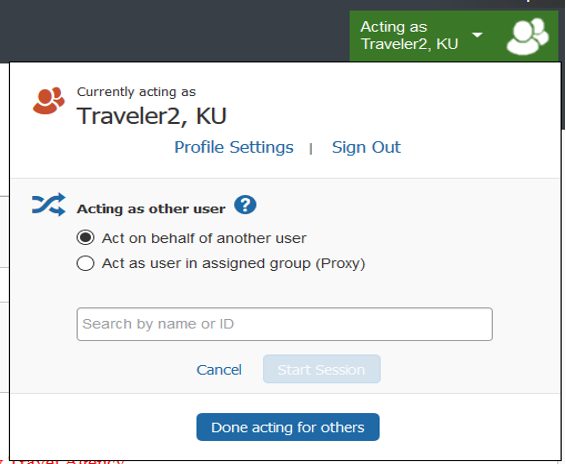 NOTE: To book Non-employee travel, see the Booking Guest Travel guide.