Add, Edit or Remove Travel Arrangers or Primary Assistant
---
Overview
This training guide explains how to add, edit, or remove a Travel Arranger or Primary Assistant who can arrange your travel or have visibility into your booked travel itineraries. In Concur, Travel Arrangers are also referred to as Assistants.  Note: The individual you wish to add as an Arranger/Assistant must have their Concur Profile updated and Concur Travel Arrangers and Assistants are not sent safety notifications for their travelers.
Step One:
Locate the Assistants/Arrangers link in the Profile Options page.
From the Concur Home Page:
Select Profile > Profile Settings.
Select Assistants/Arrangers under Travel Settings.

Step Two:
In the Assistants and Travel Arrangers section, select Add an Assistant to add an Arranger or Primary Assistant.

NOTE:  If you check the Refuse Self Assigning Assistants box, a Concur administrator in the KU FMS department will not be able to proxy into your account and assist you with travel issues.  It is strongly recommended that you leave this box unchecked.
Step Three:
Add the individual you want as an Arranger/Assistant.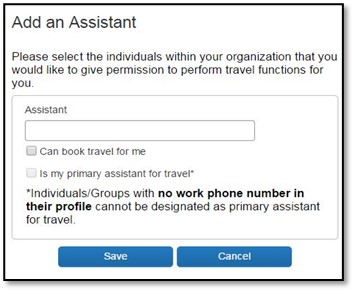 Search for an arranger by typing in their name in the Assistant box.
Check the box that applies:

Can book travel for me = someone that can book travel on your behalf

You can have multiple Travel Arrangers

Is my primary assistant for travel = someone that needs visibility into your travel, also receives itinerary emails which contain the CTP Agent Fee receipt/invoice

You can only have onePrimary Travel Assistant

Click Save. The Arranger/Assistant will appear in the Assistants and Travel Arrangers section.
Step Four:
You can Edit or Remove an Assistant or Arranger as needed. Note: the Primary Travel Assistant is noted by the designated Assistant's name.
To Edit a Travel Arranger or Primary Assistant select the pencil icon. 
To Remove a Travel Arranger or Primary Assistant select on the Trash icon.  
Make sure to Save any changes before leaving your profile.