Changing a Trip Booked in Concur Travel
---
Overview
This training guide walks you through how to change a trip booked in Concur Travel.  You can add, change, or cancel a ticketed flight, hotel reservation, or rental car reservation from an existing trip in Concur. To maintain travel booking visibility for Duty of Care monitoring and communication purposes, please add, change, or cancel flight, hotel or car reservations online through Concur Travel or by calling CTP.
To learn how to cancel an entire trip see the Canceling an Entire Trip Booked in Concur Travel guide.
Step One:
From the Concur Home Page, under My Trips, select the trip that you wish to change.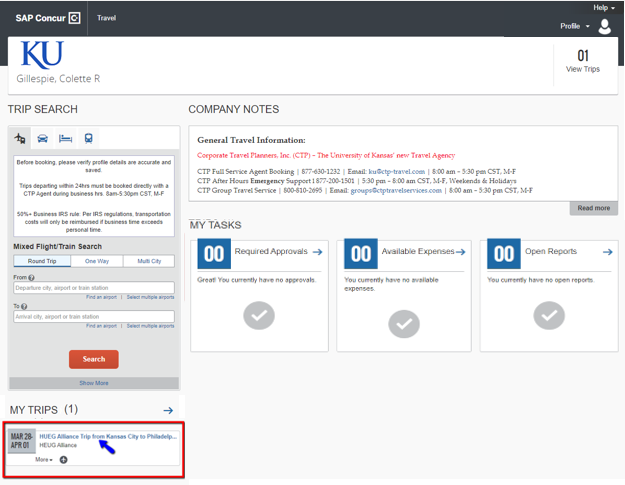 Things to Note Before Making a Flight Change:
Flight changes that include a single carrier can be made online in Concur until you have checked into your flight. If you booked using multiple carriers, you must call CTP at 877-630-1232 between 7:30am – 6:30pm, M-F to assist you with the change. 
For a ticketed flight for which you have not checked into, you can change the time and/or date of the flight in Concur. Your change options will be with the same airline and routing. Airline and/or routing changes need to made directly with CTP. Please note an airline change fee may apply and you will incur an Agent Fee as this is essentially a new ticket.
If a change needs made after you have already checked into your flight and the trip is in progress, you will need to contact CTP at 877-630-1232 between 7:30am – 6:30pm, M-F to assist you with the change. Or CTP After Hours Emergency Support at 877-200-1501 | 6:30 pm – 7:30 am CST, M-F, Weekends & Holidays if needed.
Trips booked outside of Concur Travel or CTP cannot be modified in Concur or with CTP.
Step Two:
From the Travel Details page you can:
Add a Car or Hotel to your existing itinerary in the Trip Overview section
Perform various task found in the I want to... section
Change or Cancel parts of your trip in the Reservations section as needed.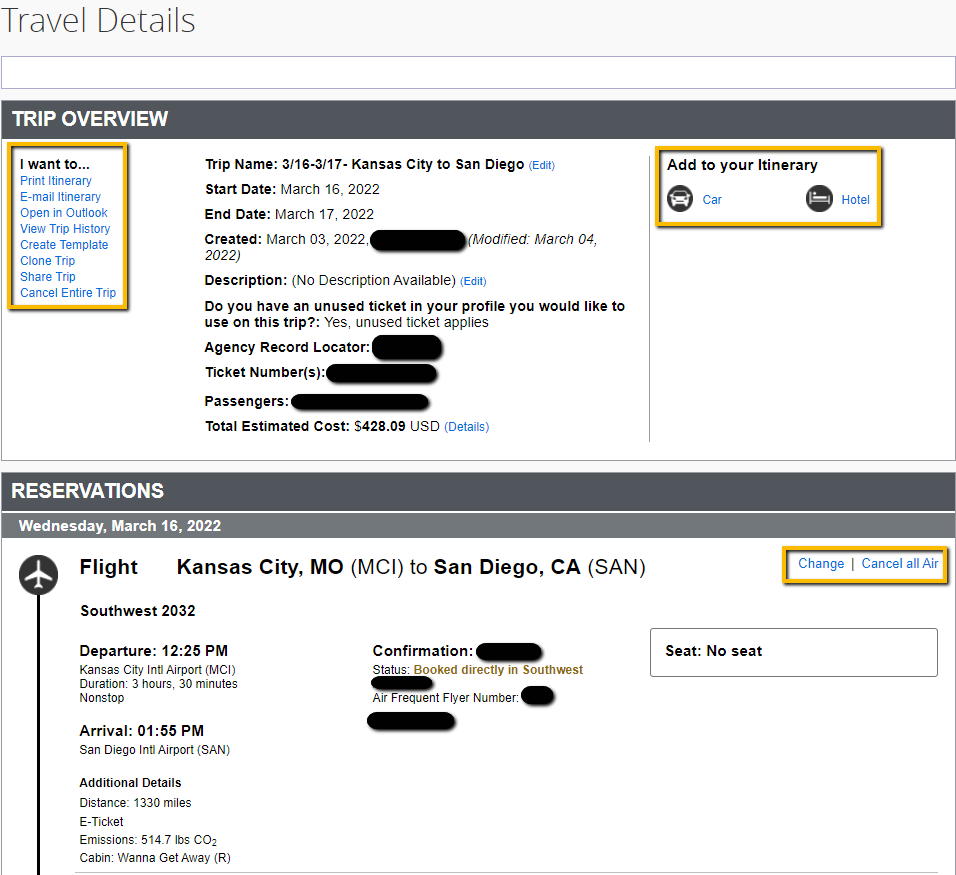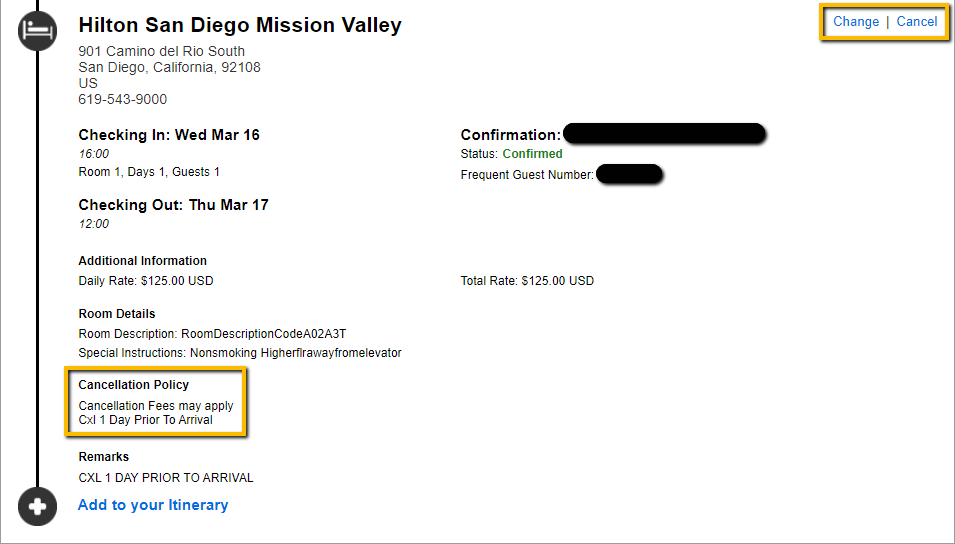 HINT: Check hotel Cancellation Policy before changing or cancelling a hotel reservation to avoid fees. Contact CTP for assistance if canceling with the Cancellation Policy window.
In this example we will Change a flight. 
Next to the Flight select Change.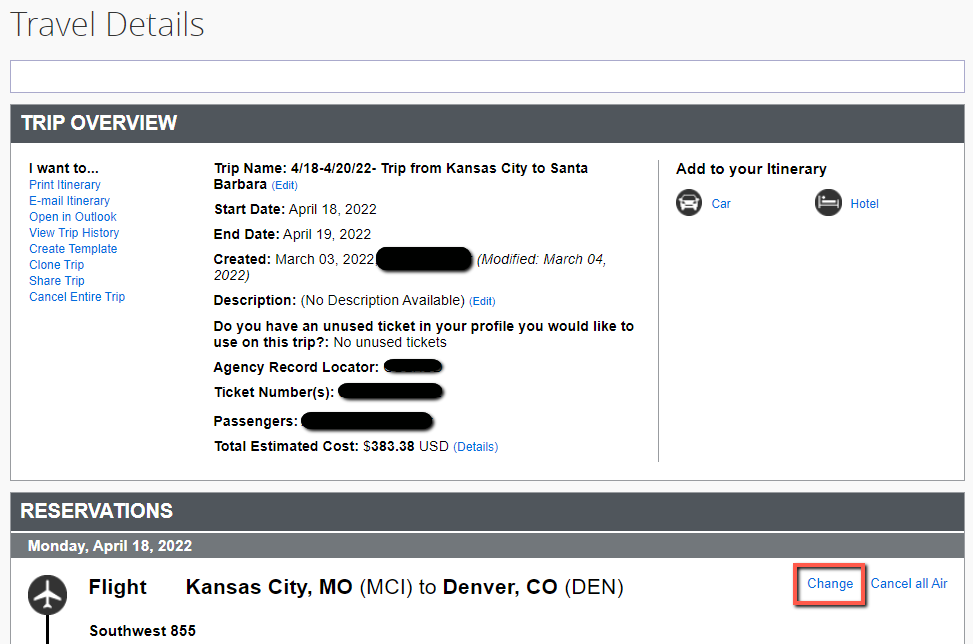 Step Three:
In the Change Flight pop-up window:
Pick which flight segment you wish to change. You can change one or both segments.
Enter the new search criteria.
Select Search.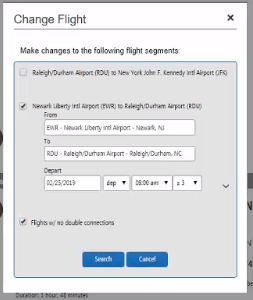 Travel will automatically adjust any car or hotel reservations to match the days of the flight changes
Step Four:
From the Trip Summary page, you will need to Select a flight for BOTH Segments, even if you only wish to change one. 
1.  Review options and Select your flight choices.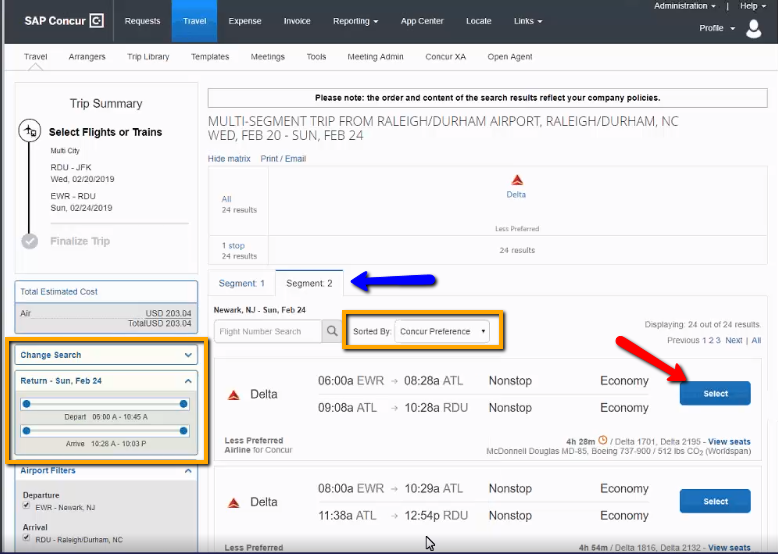 Segment 1 is your Departure flight and Segment 2 is your Return flight. 
You can modify your search or choose different Sort By filter on the left-hand side of the screen.
2. Once both flight segments are selected, select Get Price.

Step Five:
After you make the changes you will be able to see the original airfare, new airfare, airfare difference, exchange fee, and total cost of the exchange.
To finalize your change, select Purchase New Flights.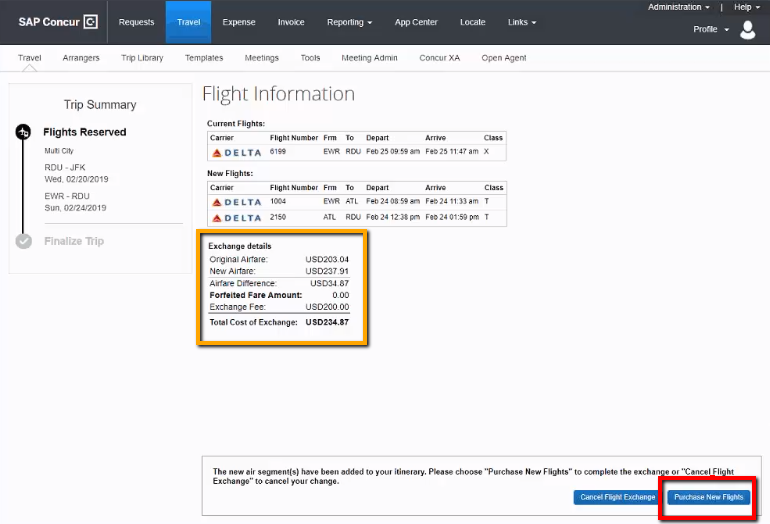 Step Six:
Enter the explanation for the change in the Description box, and select FINISH to complete the booking.